KELLY'S BOOK NOOK

If you're unable to find these books at Amazon.com, please try online used bookstore Abe.com.
---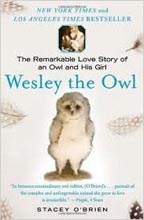 Wesley the Owl (The Remarkable Love Story of an Owl and His Girl) -
Stacey O'Brien
When wildlife biologist Stacey O'Brien is asked to raise a permanently-injured owlet, she has no idea that the next nineteen years will be filled with so many challenges, and so much satisfaction. Wesley the owl proves himself to be a complex creature, highly intelligent, who understands far more than O'Brien initially gave him credit for. The bond they develop together will surprise no one: Wesley turns out to be a one-woman bird, and O'Brien's fierce devotion to his care will warm your heart. I loved this book! I give it four paws!





A Street Cat Named Bob (And How He Saved My Life) by James Bowen
James Bowen was a recovering heroin addict when he found a kitten in dire need of food and medical care. As he nursed Bob back to health, Bowen found that the cat was rescuing him every bit as much as he was rescuing it. Finding purpose and responsibility in caring for Bob - two things sorely missing when he was actively using drugs - helped Bowen finally turn his life around. Together, they face the challenges of starting over and staying healthy. The real charm of this book, though, is the fact that Bob the cat joins Bowen as he busks on London street corners and his presence, as any cat lover can imagine, increases the tips people offer by a considerable amount! I give this great book four paws!






Enslaved by Ducks – Bob Tarte
It started innocently enough when Bob's wife Linda suggested getting a rabbit. Then came parrots. Ducks. Geese. Cats. Turkeys. Before he knew it, Bob was in over his head and the animals ruled the roost! Bob's first book is terrific fun and his dry humor makes it a page-turning laugh riot. I give it four paws!





Fowl Weather – Bob Tarte
The follow-up to Enslaved is another laugh riot as the roster of critter residents increases, and Bob stumbles on some valuable life-lessons taught by the wonderful animal characters who share his home. Another four paws!






Kitty Cornered - Bob Tarte
In Bob Tarte's third critter book, he explores the complex relationships between himself and his six cats. Each cat comes with its own special idiosyncrasies, and it's up to Bob to figure out how to appease them. Navigating between fat cats, needy cats, and scaredy cats, Bob ultimately learns that his felines play by their own rules, and that we humans are mere pawns in the game. Bob could just as easily have called this book Enslaved by Cats! I give it four paws!






Feather Brained (My Bumbling Quest to Become a Birder
and Find a Rare Bird On My Own) - Bob Tarte
Bob's books are a delight because he injects so much of himself into the pages. He makes an art form of laziness, and his short attention span is legendary. Indeed, Bob's pokes at himself are some of the best parts of all four of his books. One of the funniest bits in Feather Brained is how he casually mentions, over the course of 198 pages, the numerous pairs of binoculars he purchased, the price of which continued to increase commensurately along with his interest in birds. Whether you like birding, enjoy birds from a distance, or don't care about them at all, you'll enjoy Feather Brained because birds are only part of the story. Bob's relationship with his fellow birding buddy, Book Character Bill Holm, is hilariously funny and rounds out Feather Brained nicely. I give it four paws.






The Walrus on My Table – Anthony Guglielmo
Human massage therapist Guglielmo is asked to massage a client's horse. Intrigued, he sets about learning animal anatomy and ends up working on a fascinating array of species: from horses to dolphins, a walrus and more, this book contains delightful stories about all the critters he helped with massage therapy. four paws!






Born Without a Tail – Cayr Ariel Wulff
Wulff serves up a charming memoir in which the animals keep coming, even as Wulff and her partner's finances are stretched to the limit. Critter personalities shine here as Wulff deftly describes each individual horse, skunk, dog and cat, and she'll leave you laughing at their antics in the bargain. four paws!





The Soul of a Horse – Joe Camp
When Camp and his wife decide to adopt a horse, they start out knowing very little, assuming too much and going along with the status quo. But Camp wants more than to simply own horses, he wants to be a member of the herd. Through his research, Camp discovers that much of conventional equine wisdom - the need for shoes, keeping horses stalled – is actually detrimental to a horse's well-being, and can shorten his life. Soul is as much a how-to manual as it is a horse love story, and I urge everyone interested in horse ownership to read it from cover to cover. four paws!





The Good Good Pig – Sy Montgomery
When Montgomery adopts Christopher Hogwood, he's such a tiny runt that he's not expected to live long. But the pig not only survives, he thrives, and grows up to be locally famous as an escape artist with charm to spare. People come from far and wide just to visit the critter whose porcine personality is as big as his outsized girth. If you've never read a book about pigs, this is the one to start with! I give it four paws!





Making Rounds with Oscar (The Extraordinary Gift of an Ordinary Cat)
– David Dosa, M.D.
Doctor Dosa makes his daily rounds at a nursing home completely unaware that one of the resident cats has a special gift. Once a nurse clues him in, though, he's intrigued: while Oscar tends to be standoffish with the staff, he's so in tune with the patients that he seems to know who will die next. Once he gets a vibe, Oscar will snuggle on the patient's bed and stay there until the family has said good-bye and the body has been taken away. Making Rounds also sheds some light on the mystery that is Alzheimer's disease, which makes this book jam-packed with interesting stories. I give it 3 paws - but only because Dr. Dosa thinks that there's such a thing as an ordinary cat! If future printings leave out that annoying subtitle, I'll upgrade my rating to four paws!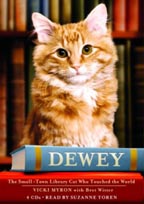 Dewey - The Small-Town Library Cat Who Touched the World
- Vicki Myron.
On the coldest night of the year, someone stuffed a helpless kitten in the library drop box. Lucky for Dewey, library director Myron found him the next day and fell in love with him. Over the next nineteen years, Dewey, as the library's cat-in-residence, charmed not only Myron and her staff, but many of the town folk, as well: in his self-appointed job as head of public-relations, Dewey made it a habit to sit in on council meetings, snuggle with elderly readers, and visit with children, too. In fact, as word spread about "that library cat,"
Dewey eventually put the little town of Spencer, Iowa on the map!
This is lovely book and I give it four paws!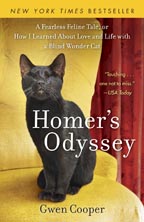 Homer's Odyssey - A Fearless Feline Tale, or How I Learned About Love and Life with a Blind Wonder Cat - Gwen Cooper.
The last thing Gwen Cooper wanted was another cat. She already had two, not to mention a phenomenally underpaying job and a recently broken heart. Then Gwen's veterinarian called with a story about a three-week-old eyeless kitten who'd been abandoned. It was love at first sight, but it would be a bumpy ride: Homer the Wonder Cat "saw" Cooper through unemployment, crummy relationships, and a stint living with her parents as she struggled to find a decent-paying job. Through it all, Homer continued to teach Cooper how to live without limits, and embrace every day with relish and abandon. We could all learn from Homer's example! I give this wonderful book five paws!






What Your Horse Wants You To Know - What horse's "bad" behavior means, and how to correct it. - Gincy Self Bucklin
This is the best how-to book I've read yet, and more than paid for itself before I'd even finished reading it! Bucklin zeros in on a number of specific behavior issues, explains why horses have them, and then details how to deal with them - all in an easy-to-read style that even a beginner can understand. This book is a must-have for anyone who wants to learn more about their horse. I give it four hooves!